Overview
The vCamMX-2 all-in-one mini inspection system gives you the flexibility to cover a range of inspections including indoor drain lines, residential plumbing, indoor commercial lines, and lateral lines up to four inches in diameter. The vCamMX-2 control module is designed and manufactured with the plumbing contractors' needs in mind. The latest technology in imaging and recording are packaged in a rugged ABS injection molded housing mounted to the stainless-steel frame is made specifically for harsh conditions.
The Type-MX reels are made of stainless steel tubular construction with a lightweight rugged carbon fiber pushrod drum. The multi angle LCD and frame which can be used in an upright or horizontal position is usable in tight confined space use, entering vents from rooftops stores easily in most utility vehicle compartments. The pushrod is traceable with the use of a utility locater transmitter and comes with a three frequency built-in locatable sonde.
Two user interchangeable camera heads fit the Type-MX reel giving the user flexibility to handle lines from one to four inches. The system is available in 100 and 150-foot lengths.

       Watch videos created with the vCam camera systems on our YouTube Channel
Key Features
File renaming
Eight-inch daylight viewable LCD
5-watt 512Hz, 640Hz and 33kHz Sonde
Traceable pushrod
One touch recording to USB thumb drive
Two times digital zoom for up close-up viewing
AC/DC operation with rechargeable internal battery
Audio commenting through the internal or external microphone
Multi-color and position on screen display (distance, date and time)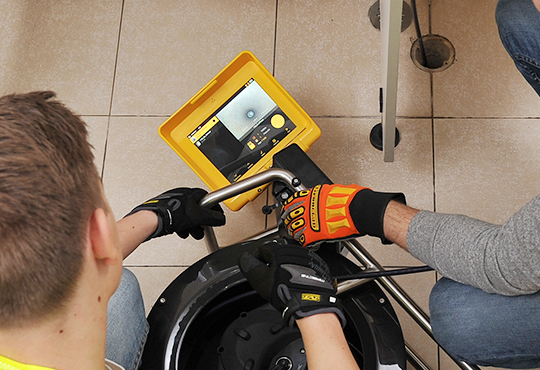 Download
| brochure | Size | Download |
| --- | --- | --- |
| vCam Inspection Products Brochure V1.2 | 1.58 MB | Download |
| vCam Inspection Products Accessories Sales Sheet VXMT Eng V1.2 | 1.04 MB | Download |
| vCamMX-2 Inspection System Sales Sheet VXMT Eng V1.3 | 1.70 MB | Download |
| quick-guide | | |
| vCam Live View Mobile App Quick Guide | 521.06 KB | Download |
| vCamMX-2 Quick Guide VXMT Eng V1.3 | 264.68 KB | Download |
| Locating Push Camera Cable Quick Guide | 1.55 MB | Download |
| datasheet | | |
| vCamMX-2 Technical Specifications VXMT Eng V1.5 | 613.47 KB | Download |
| manual | | |
| vCamMX-2 POSM General Setup Instructions V1.0 | 692.03 KB | Download |
| vCamMX-2 User Handbook VXMT Eng V1.2 | 8.53 MB | Download |
| firmware | | |
| vCamMX-2 Firmware Update Instructions_V1.0 | 398.46 KB | Download |
| MX_2.10 | 163.15 MB | Download |
App
vCam Live View Mobile App
The vCam Live View Mobile app connects a smartphone or tablet to the vCam-6 and vCamMX-2 controller via Wi-Fi and streams the live video into the app. The videos and pictures captured in the app can be shared using the smartphone or tablets native sharing options.   What is seen on the control modules LCD is duplicated in the...
View More