Remote Identification Antenna with SiS
The Remote Antenna can be used to help identify a cable in a cable tray, where cables are bunched together, or in proximity making it impossible to use a conventional locator.   
When used with the vLoc3-5000 receiver with SiS (signal select mode), the SiS mode becomes a powerful tool that easily identifies a particular cable on a cable tray or where cables are bunched together by providing a visible positive or negative icon (+ and -) when the cable is touched by the antenna.  
This accessory is compatible with all vLoc3 series receivers.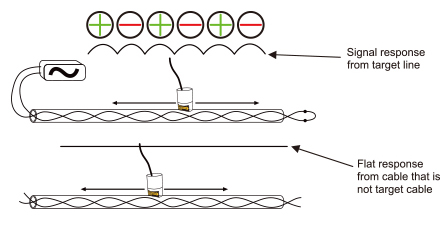 Download
brochure
Size
Download
Locator Accessory Brochure VMXT Eng V1.0
5.23 MB
Download
Remote Antenna Technical Specifications VXMT Eng V2.4
296.66 KB
Download
quick-guide
vLoc3 Series Remote Antenna User Guide VXMT Eng V1.2
1.28 MB
Download
Analogue Remote Antenna User Guide VXMT Eng V1.1
675.32 KB
Download