Overview
The vLocPro2 (VLP2) utility locator receiver was designed to meet the tough requirements of the modern world. With more and more utilities being buried each day and also abandoned each day, it truly is a jungle beneath the ground. Today's locator must not only trace the path of a buried utility, it must assure the user that the locate is beyond the shadow accurate. The vLocPro2 (VLP2) is the tool that will give you the same results time after time with speed and, accuracy which leaves you confident in the decision to put the paint mark on the ground. The vLocPro2 (VLP2) series locator is the locator of choice for the contract locating professionals.
The vLocPro2 (VLP2) utility locator receiver has more than seventy active frequencies from 98Hz to 200kHz as well as several passive modes such as broad and narrow band power and VLF radio and SD (signal direction). Once the target line is located use the compass feature to quickly trace the line by following the compass line.
Key Features
Ergonomic lightweight design at only 4.6lb/2kg
Rechargeable or alkaline batteries
Lightweight rugged ABS & carbon fiber construction
Link a range of GPS devices to the receiver via Bluetooth
SD (Signal Direction) positive line identification mode for congested areas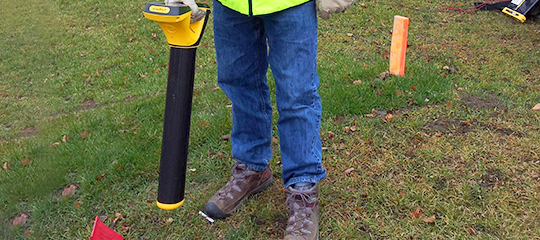 Download
| brochure | Size | Download |
| --- | --- | --- |
| vLoc Series 2 Brochure VXMT Eng V1.7 | 1.61 MB | Download |
| datasheet | | |
| vLocPro2 Rx Data Sheet VXMT Eng V1.7 | 266.87 KB | Download |
| manual | | |
| vLocPro2 vLocML2+ User Handbook VXMT Eng V2.1 | 10.52 MB | Download |
| software | | |
| VMMap iOS Setup and User Guide VXMT Eng V1.1 | 1.24 MB | Download |
| MyLocator2-Setup_2.7 | 3.07 MB | Download |
App
MyLocator2 App
Keep the operating system of the vLoc2 series receivers and vLoc series transmitters up to date with the free MyLocator2 Desktop App. The MyLocator2 management tool allows the user to configure the features in the locator, download data collected from locating, set alarms useable while locating, and check and update the locator's firmware....
View More
VMMap App
When used with Bluetooth enabled Vivax-Metrotech receivers, the VMMap Utility Mapping app records data from the field which is instantly available online via the VMMap Cloud web portal or can be shared by using the email function in the app. Location data is obtained from the mobile phone, or an external GPS device of...
View More