Overview
The Loc-1Tx Transmitter has one induction frequency and three direct frequencies. The LED indicators on the transmitter show the frequency selected, output level, and battery status. An audio indicator beeps to advise the quality of the connection.
Two configurations are available offering different induction and connection frequencies.
Config A006 = Induction: 83kHz   Direct Connection: 512Hz, 8kHz, and 83kHz
Config A010 = Induction: 33kHz   Direct Connection: 8kHz, 33kHz, and 65kHz
Packaged in a lightweight, rugged, ergonomic IP54 housing, the transmitter provides consistent current output in direct connect, clamp and induction modes. The transmitter has protection against incoming voltages up to 260V. The transmitter comes standard with direct connection leads, ground stake, clip on carry straps and four alkaline "D" cell batteries.
Key Features
Overload protection
External connection protection to 260VAC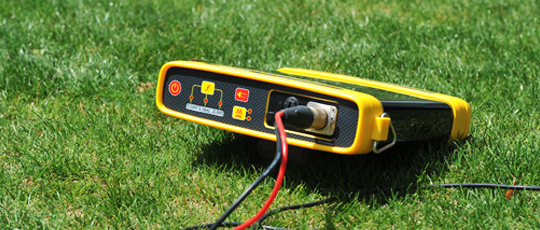 Download
| datasheet | Size | Download |
| --- | --- | --- |
| Transmitter Data Sheet VXMT Eng V3.9 | 371.53 KB | Download |